About us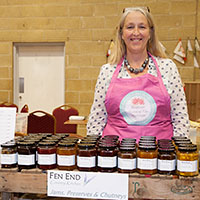 Welcome to Fen End Country Kitchen. My name is Heather and this is my chutney and preserves business. Based in the Cambridgeshire village of Over, the business has grown rapidly since we launched in November, 2014.
As a foodie family, we have always enjoyed creating new tasty dishes from scratch, using local, seasonal products, but it was only after giving up my previous career, to start a family, that I started dabbling in preserves. Initially, the results were just for home consumption, gifts and charity sales. But with increasingly positive feedback and a desire to create something new and unique, the idea of transforming my hobby into a business grew. So one night, over the kitchen table, Fen End Country Kitchen was born.
All of our products are hand made using natural ingredients and in the traditional way using stainless steel Maslin Pans and elbow grease. We supply direct in the local area, through a few retail outlets and regularly attend local fayres and markets. Recently, we have been doing more and more in the supply of gifts for special occasions, which is a lot of fun coming up with new gift concepts.
Even though we have some popular staples such as Eastern Spiced Tomato and Strawberry & Prosecco Preserve, we continue to try out new recipes and follow the seasonal theme. We really enjoy finding out what our customers like and encourage them to give us feedback and ideas for new products so we can further improve the range. We are, of course, great fans of chutney and preserves ourselves, and we like to find new things to do with them, so if you have any recipes or other ideas you can share with us we are always interested. Our Recipes page lists our favourite things you can do with chutneys & preserves.