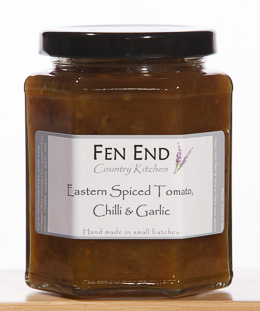 Eastern Spiced Tomato, Chilli & Garlic
A rich and tangy tomato flavour with a spicy kick. Our own unique recipe and our most popular preserve.
Ideal with anything; baked camembert, grilled salmon, strong cheddar cheese, chicken. Works well as a pickle alongside curry. Alternatively, consume the whole pot in front of the TV with nachos, as one of our customers did as soon as he got home.
Ingredients: tomatoes(51%), white wine vinegar(18%), onions(17%), sugar(12%), spices, chillies, mustard*, garlic, salt
* Allergen