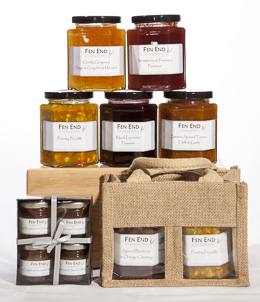 Our product range
We supply chutneys, fruit preserves (jams) and curds in 8 oz and 12 oz jars. We also produce a small quantity of miniature jars (1.5 oz) which are great for sampling, gifts and wedding favours. Various gift options are available, such as hand made miniature gift boxes and 2 or 3 jar selections in stylish jute bags.
For special occasions, such as weddings, anniversaries and birthdays, we can supply custom-made hampers finished in cellophane wrapping with a bow.
Our current product range and pricelist may be viewed via the menu on the left. Please note, we can ship preserves (not curds) within the UK. This service takes 2-3 working days and requires a minimum order of 3 jars. Shipping is from £4.50. Please contact us for more information or a specific quote.