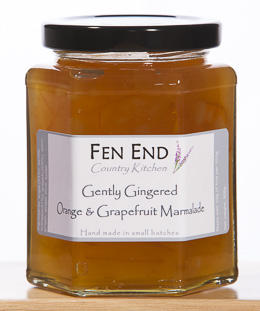 Gently Gingered Orange & Grapefruit Marmalade
Classic bitter-sweet Seville oranges combined with sharp grapefruit. Our twist is to warm it up with stem ginger and ginger wine.
Ideal as a breakfast treat on toast, or as a filling or glaze for pastries and cakes. Also adds a nice sweetness to grilled pork and gammon dishes.
Ingredients: sugar(53%), seville oranges(31%), grapefruit(9%), stem ginger, ginger wine, butter*
* Allergen